Become Your Own Material Maker with the Felfil Evo Filament Extruder
By Sponsored Content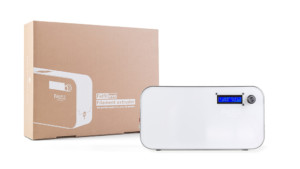 The Felfil Evo is an open-source 3D printer plastic extruder machine that allows you to create customized 3D printing filament from the comfort of your own home. Make your own materials from plastic pellets, flawed or old 3D prints, or plastic waste.
With all of the brands and formulations crowding the 3D printing market, finding the right filament can be a trying experience. Sometimes, a maker knows exactly what color or characteristic they need for their printing project, but it isn't always readily available.
The Felfil Evo is aiming to put the power of filament production into the hands of the maker community. Manufactured by the Italian startup Felfil, this plastic filament extruder is capable of creating 3D printing materials from industrial pellets, disposable 3D prints, or plastic waste. It's a completely open source device that is made up of all-new components, all of which can be easily sourced at a low price.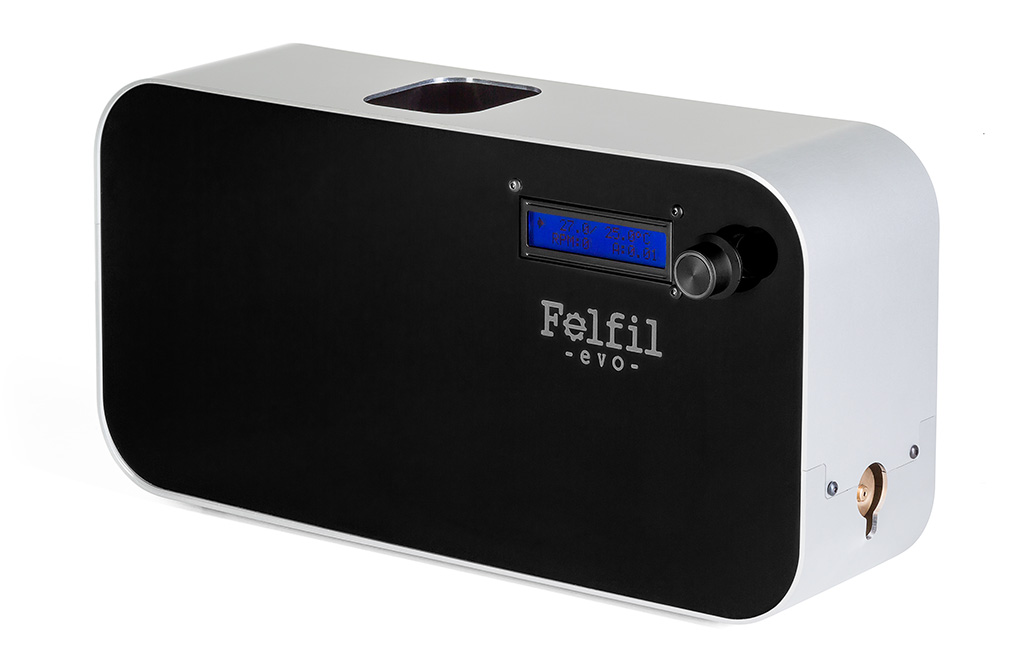 Felfil Evo is equipped with a nozzle, an electronic card that is compatible with Arduino, and a specially designed extrusion screw and melting chamber that enhances the overall extrusion quality.
Whether you have a certain filament color in mind, prints or plastic waste that you want to recycle, or just want to experiment, the Felfil Evo will be the driving force in your quest to create 3D printing materials. According to the manufacturer, users can save up to 80 percent on spool costs by using the plastic extruder and their granulated plastic pellets.
With the Felfil Evo, you can produce a wide range of filament types, such as PLA, ABS, TPU, PETG, Nylon and more. The team has shared the optimal settings for each material, and they even sell their own PLA and ABS pellets to help you get started right away.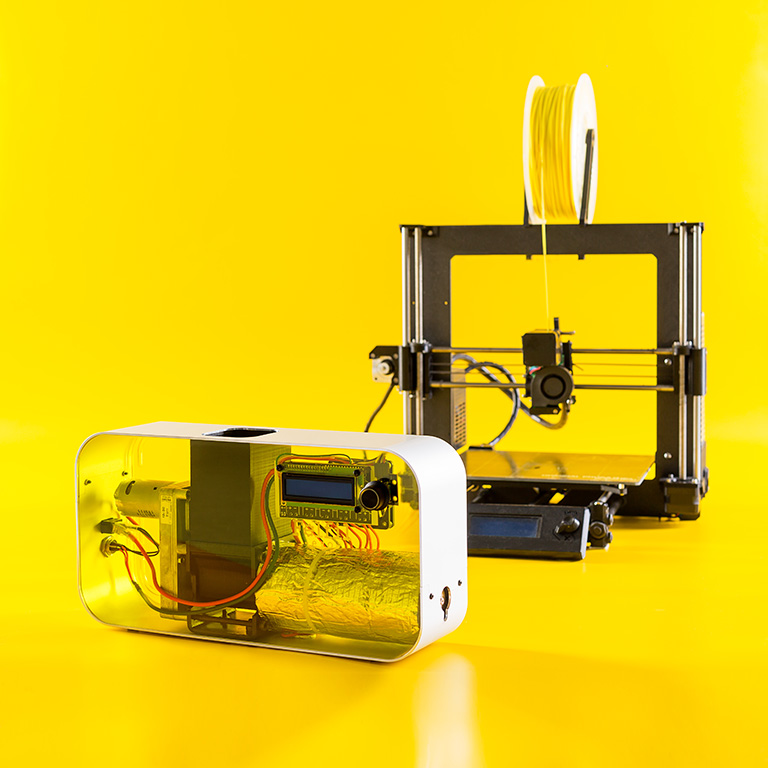 The Felfil Evo Filament Extruder: From Master's Thesis to Market
While the Felfil Evo officially surfaced on the market in October 2017, the Italian startup has been developing its plastic extruder concept for a few years. In fact, the first prototypes of FelFil were created for a master's thesis project. In 2015, the first iteration of Felfil Evo made its way to the popular crowdfunding platform Kickstarter, where it raised over €45,000 from a total of 168 backers.
In addition to their Kickstarter success, the Felfil team also launched a campaign on the Italian equity crowdfunding platform called Mamacrowd Projects, raking in another €119,000. This sizable amount of funding enabled the team to continue refining the design, eventually leading to the production of the second series of the filament extruder.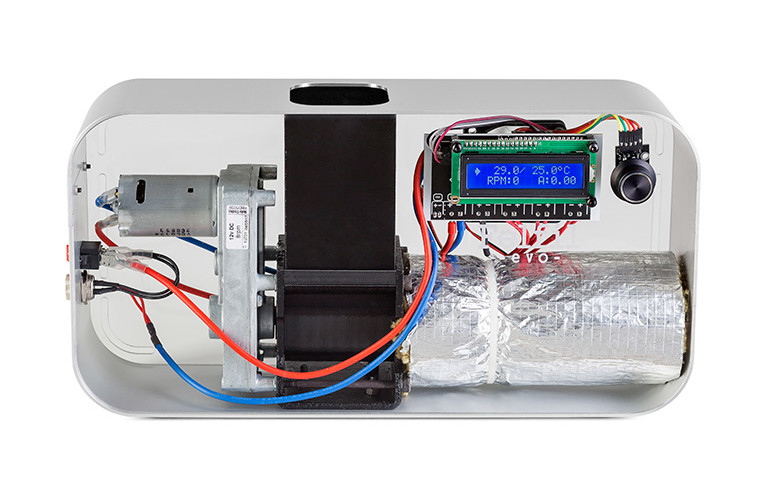 By conducting surveys and listening to the feedback from their earliest adopters, Felfil has been able to continuously improve upon the Evo's design and functionality. In October 2017, after completing their pre-sale orders from various crowdfunding campaigns, the latest version of the Felfil Evo became available for immediate order.
The Felfil Evo is currently available in three forms: Assembled (719€), Complete Kit (599€), and the Basic Kit (299€). The assembled version is ideal for beginners or those who want to get extruding right away. All you have to do is set the temperature and gear motor speed to start making your own filament. The Complete Kit comes with all of the components needed to start your filament making journey, and requires a short amount of time to assemble. Finally, the Basic Kit contains the main components needed to build the Evo, while parts like heaters and electronics need to be sourced elsewhere.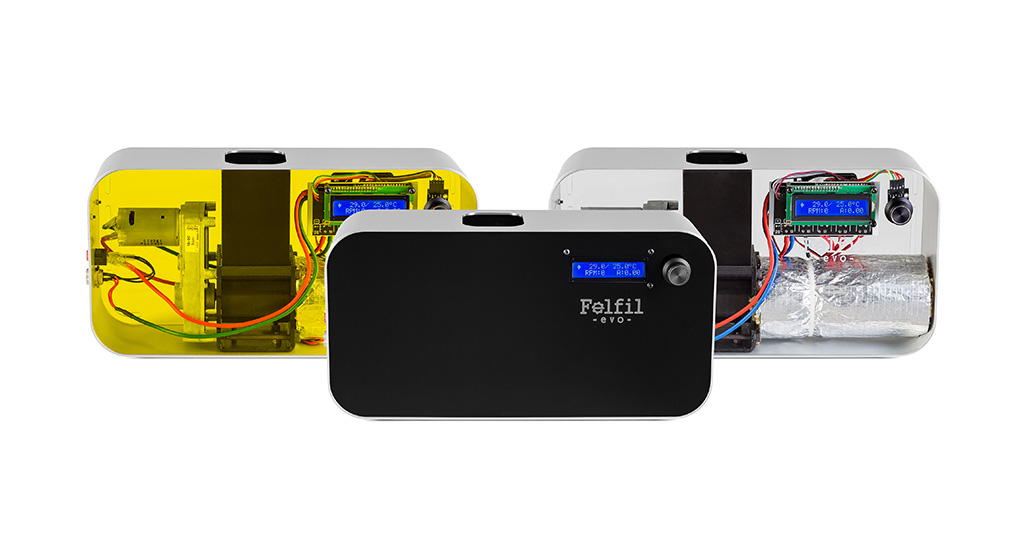 It's available in four different colors (yellow transparent, transparent, white, black) and comes equipped with either a 1.75mm or 2.85mm nozzle.
Are you ready to start creating and experimenting with your own 3D printing filament? You can purchase the Felfil Evo and pellets directly from the Felfil website.
The post Become Your Own Material Maker with the Felfil Evo Filament Extruder appeared first on All3DP.
October 15, 2018 at 04:59PM
via All3DPAll3DP https://ift.tt/2NI3fcr